These pictures aren't brilliant quality, they were taken with my iPhone and they are VERY blurry. But I love them. I captured the sweetest moments between these brothers, hugging, tickling and laughing. They make my heart happy.

I just snuck into the kitchen and ate the last piece of lemon drizzle cake. No sharing, and really it was two pieces. No regrets.

Genuinely contemplating getting a mini straight jacket to fit Joshua, for diaper/nappy changes. I physically can't hold him down, little wriggle butt!

I went out the other night with some girlfriends, after the boys were in bed of course. I put on my lipstick while the boys were in the bath, and when Daniel came into the room he said "Look at the state of your face! There's all pink on it! Let me get you a wipe!"

I've broken my Frugal February spending-ban. But Forever 21 are doing an extra 50% off sale items so I got some coral jeans AND some hot pink shorts for £8! I've been hunting for both for ages so I couldn't pass up that kind of bargain!

I'm pretty certain sleep training, and controlled crying, have actually made our sleep situation worse. Joshua will only nap for 20 minutes at a time, and wakes up SO grumpy. Luckily, lying on my chest as listening to The Lumineers will often settle him again, but it's not ideal.

I worked out earlier, using the Xbox Kinect & a fitness game. Honestly, the fitness test wore me out a little, and I only managed one 5 minute toning workout, because then Joshua was getting sleepy. Yes, i could have carried on once he was in bed but instead I relaxed on the sofa & read blogs instead. Oh well, maybe tomorrow!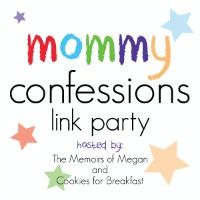 Lots of Love
Momma B
xxx