Warning: this post talks about nappies and poop.

When I was pregnant with Daniel I entertained the idea of using reusable nappies. I did a little research but got confused pretty easily, (there are so many!!) so when a friend recommended Bambino Mio I decided to give them a go. I wasn't organised enough to get them before Daniel was born but I'm not sure when exactly I did make the splurge. Colin wasn't a fan of the idea, but I convinced him with the financial aspect, and agreeing to change the majority of nappies! I decided to go with the Bambino Mio Birth to Potty Pack as it had everything I needed to start, for a very good price considering! We also have the Bambino Mio Wet Nappy Bag but in green which we keep in the changing bag & helps us cut down on using nappy sacks.




The Bambino Mio nappies have three parts - the outer, the nappy and the liner. I choose to use liners because it's just easier for me, and less messy to just throw the majority of the poop straight into the bin/nappy sack. The outers come in five sizes from birth to potty, and the nappies come in two different sizes. You simply fold the nappy, place in into the outer and put a liner on top, easy peasy. When changing them, you can reuse the outer and just put a new nappy inside, so unlike AIO nappies you don't need a million!

I use cloth diapers with both my boys, and with Joshua from birth. We do use disposables at night for Daniel, because he leaks out (even with an added Bambino Mio Reusable MioBoost!) and whenever we run out of outers (which is actually quite frequently with Joshua & his newborn poop-splosions or when I get a little behind with washing/drying) I should really invest in a couple more outers to stop this as I HATE using disposables, it just seems like such a waste of money!

I wash our nappies on a regular 30degree cycle, with the Bambino Mio sanitiser and non-bio detergent (as suggested) without fabric softener. The sanitiser uses an oxygen-based bleach, so if I can get them out on the line to dry (which, let's face it, isn't that often in Enlgand!) they come up good as new! So easy, and if I use the laundry bag inside the nappy bin, mess free!

At the moment we use disposable wipes too, because my Mum gets them cheap from work, but I'm looking into using reusable wipes too - any hints or tips would be greatly appreciated! I was looking at Cheeky Wipes but the set I wanted was always sold out everywhere so I'm open to any suggestions!

Linking up with Melissa and Carina from Growing up Geeky, with Toddle Along Tuesday.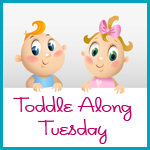 I had such a wonderful vision of the photos to include in this post - both boys in their nappies, lying on the blanket playing together. Of course that didn't happen. Joshua blew out of 2 nappies this morning & is currently in a disposable. Daniel, well...




Lots of Love
Momma B
xxx